PHILADELPHIA ROLL RECIPE - PHILLY ROLL

A very popular roll that we sell is the Philadelphia Roll, or Philly Roll, named after the popular brand name cream cheese. It is a great combination of flavors and many of our clients like to have it for breakfast!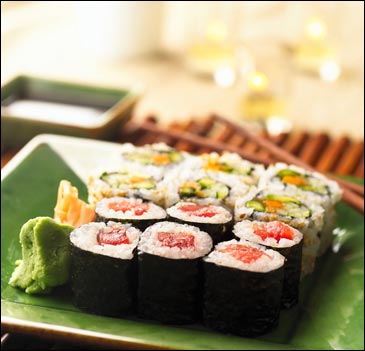 We use Philadelphia brand cream cheese and I swear there is a difference. I prefer to use the lightest smoked salmon on the market (Norwegian Smoked is nice). Add one of the two suggested optional ingredients for an extra special Philadelphia roll!


Recipe For Two Large Philly Rolls

2 8" lengths of 1/4" square cream cheese
3 ounces smoked salmon
2 8" lengths of 1/4" square English cucumber
2 toasted Nori (sushi grade seaweed) sheets
1 cup Sushi rice (see recipe)


Optional Ingredients

1 ounce thinly sliced Maui onion
pinch dried bonito flakes (Hanakatsuo)
or
1/2 ounce tobiko (flying fish caviar - I prefer gold or red)

Basic Rolling Of Futomaki Rolls

So let's get to it and make a great Philly roll!


Step 1 - Prepare Nori Sheet

First place one full sheet of sushi nori on your bamboo mat, shiny side down.


Step 2 - Cover Lightly With Sushi Rice

Lightly cover the nori sheet with your prepared sushi rice - leaving the remaining inch and a half of nori bare lengthwise away from you.


Step 3 - Place Toppings Lengthwise

Place your toppings lengthwise at center of your rice.


Step 4 - Start Rolling

Fold your mat over, centering your ingredients with respect to your rice sheet to the far edge of your rice. With even pressure, tighten your roll by pressing and pulling on your mat.


Step 5 - Tighten Your Roll

Finish your rolling by rolling your tightened roll over the last flap of nori. Repeat the tightening process if necessary.


Step 6 - Slice & Serve

Slice your Philadelphia Roll into eight pieces. And that's it — the perfect Philly Roll! Enjoy!


for some more exclusive recipes, see our Sushi Recipes Page




NEW — How To Make Sushi — SUSHI'S SECRETS — NEW PRICE $19.99!
This DVD is better than most sushi books! A unique experience!
The SUSHI'S SECRETS DVD is a fun, easy and entertaining way for you to learn how to make delicious sushi at home. Never before has an authentic Japanese Sushi chef and instructor revealed his 20 years of know-how like this. Following the step-by-step instructions you will be amazed by your own results. You'll enjoy rolling your own sushi and you'll also be able to delight your family and friends. 65 minutes of video! PLUS A FREE NUTRITION CHART!
Learn more on our Sushi DVD Page How To Make Sushi - Sushi Making DVD — SUSHI'S SECRETS


MameNori – Soy Bean Wrappers For Making Sushi

Mame Nori is the perfect solution for sushi lovers who may be allergic or have a distaste for regular seaweed nori. Mame Nori is a high-quality sushi wrapper that is made from 100% soy beans. Mame Nori also comes in 6 beautiful colors, so that you can add an artistic touch to your sushi rolls.

Soy protein is of the highest quality, but without the cholesterol and saturated fat. It can be the sole source of protein, without causing any nutritional imbalance.
Learn more on our Mame Nori Sushi Wrappers Page


NEW - Sushi Magic Sushi Maker - The Ultimate Sushi Making Kit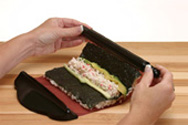 Sushi Magic is the world's best home sushi maker! Acclaimed by home users and chefs alike, Sushi Magic is a complete sushi making system that really works. Each kit includes two sushi makers in one attractive gift box, free sushi lessons with techniques and secrets for making great sushi, and where to find and how to prepare sushi grade fish, seafood, and ingredients.
See our online demos!


New – Wall Size Sushi Poster

This beautiful Sushi Poster makes a wonderful gift!
Wall-sized, it is also available in a special laminated version.
ORDER NOW AND GET FREE SHIPPING!
The Sushi Poster features a beautiful spread of sushi fish and classic sushi rolls with Japanese names and English translations. The background is a photo texture of soft wood. You will love this beautiful Sushi Poster! Sushi Poster - Wall Size - 33" x 21"


Zojirushi Home Bakery Supreme Bread Machine - Home Breadmaking Machine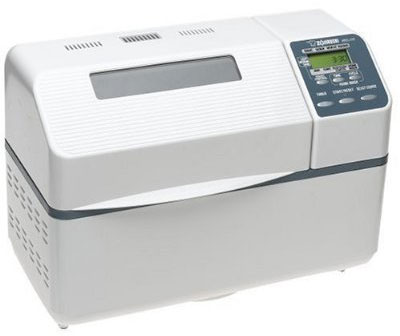 You can buy the Zojirushi Home Bakery Supreme Bread Machine at Amazon.com for only $189.04 and this item ships for FREE with Super Saver Shipping. You will save $75.96 (29%).

The Zojirushi Home Bakery Supreme Bread Machine is a state-of-the-art bread maker that combines a range of automatic controls with easily tailored options. Its 10 cycles are designed for making everything from wheat bread to cinnamon rolls and can also be put to work for non-bread items like cakes, fruit jam, and homemade meatloaf.

Versatile controls let you use the dough-only function or make a loaf from start to finish, and handy programming options include a sourdough starter, a 2-hour quick-baking cycle, and three crust settings.

The timer allows you to set all controls up to 13 hours ahead, and three memory settings store your most-used recipes.

Built with a durable plastic body, the Zojirushi Home Bakery Supreme Bread Machine has many structural plusses, including twin kneading paddles, a broad viewing window, and an angled control panel. A welcome alternative to the cylinder-shaped bread maker pans, the nonstick baking pan here turns out traditionally shaped, 2-pound loaves. Streamlined and manageable, the unit measures 16-3/4 by 12 by 8-1/2 inches and comes with a detailed manual, a recipe booklet, and a how-to video. Zojirushi includes a limited 1-year warranty.

READ MORE ABOUT THIS BREAD MAKER...